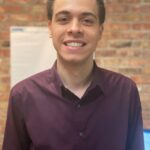 We are pleased to announce the addition of Eurell Barry as Operations Supervisor for Fox Associates, Inc.
In his new role, Eurell will be assisting in all operations and management assignments for Fox including sales development and research, social media and sales promotion, data base management (CRM), and facilities oversight.
Eurell is a recent graduate of DePaul University where he graduated Cum Laude with a degree in Communications and Media. He lives in Chicago, and enjoys basketball, dodgeball and UFC.
Join us in welcoming Eurell to the Fox Associates' team.