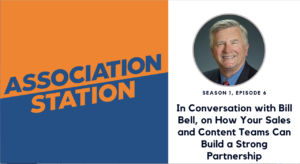 Fox Associates SVP of Sales and Business Development Bill Bell recently sat down with Melanie Padgett Powers, the host of the Association Station podcast, for a revealing conversation about media sales and how sellers can collaborate with their content-producing counterparts.
We'll offer a full report next month, but for now, give it a listen yourself.
Topics covered:
How good sales teams represent associations and their publications and media.
What the media landscape looks like today and how that affects sales.
The differences and challenges when selling for associations, rather than B2B.
How a sales funnel works.
What content people should consider as they select and begin working with a sales team.
Why reader surveys still matter.
Where digital versus print ads stand today.
Examples of products that associations can sell to earn non-dues revenue.
The details of how one white paper was created by a company and promoted to members.