For Marianna Morello, the journey to her current status as an industry icon started with a modest objection. She didn't want to do a reverse commute.
Morello is the founder and owner of Manhattan Media Services, a New York City-based direct-response marketing and advertising agency that works across a broad spectrum of product categories and media channels. The business, founded in 1995, has been recognized numerous times for its innovative solutions for countless brands, and for Morello's own work as a pioneer.
In the subsequent 27 years, she's been recognized as an industry trailblazer by Folio: Magazine. She was named part of a worldwide Who's Who for excellence in media relations. She was inducted into the Direct Response Hall of Fame, featured on the cover of Response Magazine, and appeared in a variety of best-selling business books.
But back to the origin story.
"I was working for a company that was in Manhattan, but then it decided to move to Connecticut," she remembers. She was married, with a spouse based in New York and a son in private school there. "I was going to do the reverse commute. But I got fed up with coming to Connecticut for work, and going back to New York for meetings," she adds. "So I left."
And as it happened, every one of her clients from the prior company walked out the door to join Morello at Manhattan Media. Here, we present a five-question Q&A with Morello.
Fox Tales: Tell us about your business. Who do you serve and what services do you offer?
Morello: We started off as a direct-response agency, a print-focused agency. I was one of the people in direct response and DRTV who knew how to get clients. For most of our clients now, I do the media buying, planning and execution for them. And post-campaign analyses for the digital. We offer clients everything. I had to develop the digital and social ends of the business. I launched campaigns for Tito's and for Patron. I took clients into DRTV.
DRTV is one of our channels. Digital and social are others. We do print, digital, out of home, television. We look to integrate campaigns so that that we cover everything clients need. Outdoor. Taxi tops. Billboards. The Hampton Jitney. We go above and beyond.
Fox Tales: Tell us the history and trajectory of your business.
Morello: I built the business from the ground up on my kitchen table. In 2000, I was on the cover of Response Magazine. They called me "Manhattan Media's Genius." But as I look back at it, I can't believe it was 22 years ago. And I think my goodness, I looked very young back then. I was on the map before that magazine cover, but after that, it just blew up.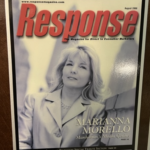 [Indeed it did. In 2018, Morello was named as an Industry Trailblazer by Folio: Magazine. The magazine wrote: "Morello was able to grow into one of the leading companies of the industry, which services an extensive portfolio of clients such as Tito's Vodka, Bosley and Naturade. Manhattan Media Services, under Morello's leadership, has managed 2,882 campaigns representing over $2.1 billion in direct sales, and has placed over 10,000 pages of print advertising."]
Fox Tales: You've had a long relationship with Fox Associates. Tell us about that.
Morello: I have been placing ads through Fox for more than 30 years. I would place ads in the magazines they represented. Whatever media companies they handled, I would place the appropriate clients with them.
Fox Tales: How did you connect with Fox?
Morello: It was before I formed Manhattan Media. Basically [Founder and CEO] Marlys [Fox] and I connected, and we really liked each other. As businesswomen, we both had the same hat on. We were go getters, and it's still like that today.
Fox Tales: How have they helped your business?
Morello: One way they helped my business was that if I needed to, I would go to them and say, "Look, give me a test, help me out, a one-time rate." And they would work with me on an ongoing basis.
Marlys stands out. She's unique. She and I saw eye to eye, and we were able to make money together, and that's the name of the game, that's the way I look at it. I've probably placed a few million dollars with them. We worked pretty closely together.